Call for New Doctoral Positions!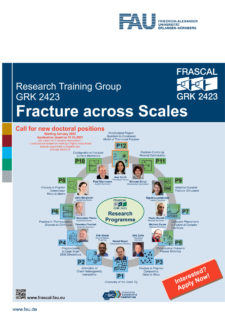 Call for new doctoral positions for the 2nd cohort of GRK 2423 FRASCAL!
Please, also take a look here.
Starting January 2022
Application deadline 31.08.2021
Join a team of 11 doctoral researchers + 1 postdoctoral researcher working in highly cross-linked projects supervised by experienced principal advisors!
The 2nd cohort of the Research Training Group GRK 2423 FRASCAL ("Fracture across Scales") funded by the German Science Foundation will start on January 1st, 2022.
FRASCAL aims to improve understanding of fracture in brittle heterogeneous materials by developing simulation methods able to capture the multi-scale nature of failure. The GRK 2423 offers 11 doctoral positions in projects P1 through P11. Project descriptions can be found at https://www.frascal.research.fau.eu/home/research/
What you can expect:
We will offer you the possibility to perform research within an interdisciplinary team in a highly innovative and active research area comprising mechanics, material sciences, mathematics, chemistry, and physics. Two principal advisors (PAs) will guide you as mentors through your research project. In addition to the research programme, FRASCAL's dedicated qualification programme will offer you mini lectures, soft skills training and RTG seminars, as well as RTG retreats, alumni & visitor workshops and mini symposia. For further details, see https://www.frascal.research.fau.eu/qualification-programme/.
Your work location is at Friedrich-Alexander-Universität Erlangen-Nürnberg. Remuneration is at E 13 TV-L (full-time, limited to three years) according to the German public service salary scale.
With one application, you may apply for up to three doctoral projects (P1 – P11) within FRASCAL.
You are eligible to apply if:
you either hold or are about to obtain an M.Sc. degree in one of the following areas: mechanics, material sciences, mathematics, chemistry, physics, or in a closely related field

you are proficient in the English language; knowledge of the German language is welcome

you have strong interpersonal skills and are able to work in a team
Necessary documents:
letter of motivation (max. 1 page) including an order of preference for the projects you are applying for

copy of Master degree (if not yet available, please send Bachelor degree instead)

academic transcripts (with grades and rankings)

brief summary of Master's thesis (max. 1 page)

short CV

letter/s of recommendation and publication list (if any)
Applications can be sent until 31st August, 2021 either by postal mail to:
Competence Unit for Scientific Computing
GRK 2423 FRASCAL
Martensstraße 5a
91058 Erlangen
Germany
 Or by e-mail to: grk2423-applications@fau.de
In case of e-mail application, all the requested documents must be collected in a single pdf file that must not exceed 10 MB. If you have any questions concerning a specific project please contact the corresponding principal advisor.
We are looking forward to receiving your application!
---