Annual Report 2021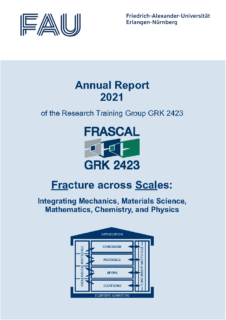 Already the third year of our Research Training Group GRK 2423 FRASCAL has past!
FRASCAL started in January 2019 with its first cohort of doctoral researchers. Fortunately, we were able to shape and use the first year largely as planned, i.e. onboarding the new doctoral researchers – preparing, scheduling and pursuing the qualification programme, in particular the multiple FRASCAL mini lectures – and developing initial success steps in the various research projects P1-P12. The second and third year of FRASCAL, i.e. 2020 and 2021, however, were overshadowed by the Corona pandemic. Nevertheless, all FRASCAL members demonstrated great resilience and endurance in view of the past and unfortunately still ongoing hardships.
As a tribute to the pandemic, most FRASCAL activities since 2020 took place only online, e.g. FRASCAL seminars and symposia by guest researchers, FRASCAL mini lectures, and, noteworthy, the weekly FRASCAL online meetings. There, we in particular conducted FRASCAL TOPZ (Topical Overview Presentation Zoomposia) which, jointly with the ensuing and engaging discussions, helped review the amazing progress made in the various research projects P1-P12.
At the end of the year 2021, we are still pursuing our research mostly at home, however hope dies last. FRASCAL's first cohort of doctoral researchers mostly finished their third year, approaching the home stretch by finishing their doctoral theses, which are based on the fantastic research work done. Their accomplished scientific and qualification achievements are stunningly impressive, thus there are no obstacles, neither formal nor regarding content, for successful doctoral theses.
The second cohort of doctoral students is already in the starting block and looking forward to the continuation of exciting research.
The Annual Report 2021 of GRK2423 FRASCAL can be downloaded here.