Kick-Off Meeting of the 2nd Cohort of GRK 2423 FRASCAL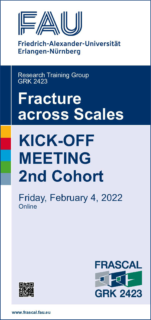 The second cohort of the Research Training Group GRK 2423 FRASCAL started in January 2022. Due to the global pandemic situation in general and the restrictions in Germany in particular, the kick-off meeting was organised online on 4 February 2022.
During the online event, Prof. Paul Steinmann, the spokesperson of GRK 2423 FRASCAL, welcomed all participants and introduced the format, concept and goals of the Research Training Group.
This was followed by a personal round of introductions of all researchers involved in the GRK. Each member was able to introduce herself/himself in a 2-3-minute self-presentation. The Principal Advisors began by presenting their research focus, followed by the doctoral researchers of the first cohort with a brief presentation of their individual projects, and finally the new doctoral researchers of the second cohort, who reported on their scientific background and their motivation for working in the RTG.
We are very pleased to welcome the new members of the second cohort of GRK 2423 "Fracture across scales" (FRASCAL) and wish them every success for their upcoming time in the RTG!
The programme of the Kick-Off-Meeting of the 2nd cohort of GRK 2423 FRASCAL can be downloaded here.